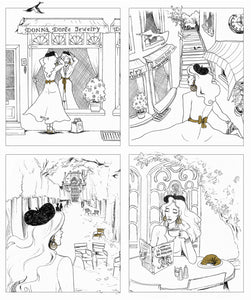 about donna
Brand story
Donna Dorée, caught in the spell of Parisian allure, catches a glimpse of her reflection in a shop window. Adjusting her beret with a sense of grace, she caresses her earring as she strolls through the bustling streets of Paris, her high pumps echoing with each confident step.

Immersed in the splendor of the grand, majestic buildings that adorn the city of fashion, Donna Dorée's gaze is drawn to the graceful, towering trees of Jardin du Luxembourg, evoking within her a profound sense of freedom. She removes her suede gloves and indulges in an espresso from a quintessentially Parisian kiosk.

Savoring the rich flavor of her coffee, Donna Dorée's mind embraces the timeless words of la grande mademoiselle Coco Chanel: 'Elegance is when the inside is as beautiful as the outside.' Wholeheartedly agreeing with the iconic French designer, Donna Dorée has made it her mission to inspire women to unveil their inner golden radiance. And so, she begins with statement jewelry. Donna Dorée cannot wait to welcome you into her world.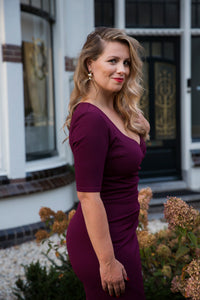 Donna Dorée – which literally means 'the golden woman'– has captivated my thoughts for years. In fact, I had already envisioned this company's name back in 2019 . The unprecedented circumstances of the corona pandemic compelled me to sort everything out and transform this vision into reality. It has been an exhilarating journey with a touch of brilliance. And now, I am thrilled to announce that Donna Dorée has come to life, and I want to introduce her to you. In fact, you've already caught a glimpse of her. Donna Dorée resides within every woman, including you and me.

"Donna" signifies a lady, a woman, or a madam in Italian, while "Dorée" translates to golden or gilded in French. This fusion of languages pays homage to my deep affection for both Italy and France. Moreover, "Dorée" also serves as a nod to my maiden name, Doreleijers. It is truly a pleasure to make your acquaintance!

The face behind the brand: Wietske Doreleijers.
I was born in 1983 in Venray and have been a resident of Breda since the age of 21. I have a deep desire to shine and to radiate beauty. As a restless and creative soul, I relish the opportunity to take my stage.
The first time I took my stage was at the tender age of six. Adorned in a delicate pink tutu, I performed the fifth position in ballet as gracefully as I could. I wanted to create something that wasn't there before and in my dance I yearned to transport people to a new world of unexplored wonder. A world that was more beautiful. A world that was more colorful. It echoes the spirit of a young Donna Dorée.
Although injuries halted my intensive dancing at the age of 25, it didn't stop me creating new worlds. In my work as a designer I was still able to express my passion for art – in the broadest sense of the word. Art resonates with me on a deep level, as it has the power to make profound statements.
My keen eye discerns beauty in countless facets, and I delight in constructing dreamlike universes. This is my strength and it gave birth to Donna Dorée, a brand that empowers you to amplify your own unique strengths through statement jewelry. Donna Dorée seeks to enhance your wardrobe, ensuring that you are seen and celebrated. It is my hope that each morning you feel a magnetic pull toward the jewelry that resonates with you. To borrow the words of my greatest source of inspiration, "Jewelry is never anything but a reflection of
the heart."

Are you prepared to embrace Donna Dorée with confidence, showcasing your femininity and beauty to the world?
Want to know more about the studio?
"In the glow of moonlight, within the sanctuary of my studio, I delicately apply the final strokes to my latest collection. A glimmer of excitement dances in my eyes; this is the moment... "
Yes, tell me more!
Gallery
Welcome to Donna's world